NEWPORT PROFESSIONAL FIREFIGHTERS LOCAL 45 I.A.F.F.
Newport, KY
2018 Newport Professional Firefighters Local 45 I.A.F.F.
BEYOND THE CALL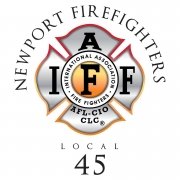 Newport Firefighters Local 45, affiliated with International Association of Firefighters (I.A.F.F.), is primarily a Labor Organization representing the members of the Newport Fire/EMS Department in Newport, Kentucky. Established in 1918, Local 45 was one of the first sixty-six locals of the now more than 3,100 I.A.F.F. affiliates across the U.S. and Canada. Today, in addition to business of being a labor organization, Local 45 continues to sponsor programs such as College Scholarship Awards, Youth Sporting Events, Holiday Family Assistance Program and Smoke Detector Installation/Maintenance Program. Many of these programs were developed and financed by Local 45 members who were inspired to give back to the community after interactions during emergency responses.