NEWPORT PROFESSIONAL FIREFIGHTERS LOCAL 45 I.A.F.F.
Newport, KY
**FEELING UPLIFTED**
We wanted to say thank you for all your support. We appreciate all of you and your continued commitment to improving the lives of our neighbors and the city we have known to love. The Newport Firefighters are dedicated to helping and assisting the public in every way possible. We will continue to be involved in the community. We could not reach our community outreach goals if it was not for all of you. Your kindness and generosity are what fuels our passion to keep growing, giving back, and making the City of Newport the best it has ever been. Again, from the bottom of our hearts, thank you. You are the lifeline to our community mission.

------
It is with sadness, we make this post today. The members of Local 45 place a great importance on our community and our involvement within the community. We are always trying to find new ways to give back and be engaged with our businesses, citizens, visitors to the city, and the overall community itself.

We had never thought that wanting to partake in and be involved within our community would be an issue. The city received a complaint about the firefighters being present at a community meeting that was in the City of Newport while on duty. This information is very disheartening, as the firefighters of this community have poured their hearts and souls into improving the lives of our citizens and the community. We know and respect that our job and daily duties come first while on shift, and we have never missed a call or response while in attendance at the meetings. Now, we are only allowed to attend certain meetings within the city if we are on duty. The question we ask, "Is one community group or meeting more important than another?" We personally do not think so.

We were asked to give reasons why we attend these meetings. Without attending these meetings, gathering information, and building relationships, it would be very difficult for us to provide for our community and preserve our mission. It is only with the support of the local businesses, communities, and individuals that we can continue to carry out our various community outreach missions. Local 45 will do our very best to have a representative at the meetings while off duty. We think that ALL the meetings are equally as important as the next, and we will continue to carry out our community mission.

Thank you for endless support. ... See MoreSee Less
We should be glad that the firefighters care enough to come to these meetings to keep our City safe and get involved in the things that go on in our city
Shame on the City of Newport's Mayor and commissioners. Most cities would love to have such a proactive and community oriented department as you all. I THINK THEY HAVE LOST THERE MINDS. YOU ARE A CREDIT TO YOU CITY AND PROFESSION.
In every City the Fire Department was the center of the Community. As times have changed and people get busier they forget the Community. I am a big supporter of the Fire Department and how they support the Citizens. We are very fortunate. Most of the Firefighters do not live in Newport but they come in on their off time as well as when working. I See the Firefighters everywhere. Thank you.
I support Newport's Police and Fire attending any and all community meetings as long as it doesn't interfere with a call. Who would complain about this? It's great to be involved with the community!
City of Newport - your firefighters go way above and beyond for your community! Many many times off duty spending much time away from their own families! You would think the higher echelons would be very proud of the work they do and the way they give back to your community! Someone's got a beef with the fire department and that's a real shame! 😡
I'm hopeful something can be resolved. The relationships and community building accomplished by these men and women have led to important things such as feeding the hungry and clothing the less fortunate. Please continue to give generously to coat drives, food collections, and holiday help.
We appreciate everything you do. And want you to stay involved. Thank you for your service to the community and going above & beyond the call of duty. I'm curious why one complaint over the course of how many years (& meetings) had such an immediate affect. Knee jerk reaction? Sad.
It's not like you wouldn't leave as soon as you got a call!! People will bitch about anything!. And those complaining probably dont help with anything. I would love to know that you are supporting the community by attending meetings and know what's going on in the community!
Too bad that the city buckled with a complaint. Must have come from someone with money because there's rarely attention to any complaint from the regular folks. I'm serious.
How sad!!!!! I have NEVER met a group of dedicated men like the guys at Newport Fire Dept. As a 2nd tier medic making runs with you, as an EMS instructor coming in to train you and as the DON of the Baptist Convalescent Center using fire and EMS services on a daily basis, I admire the professionalism that was always there!!!!! The city needs to stand up to the complainer(s) and list ALL the good things that you do!!!!!!
Our favorite thing about retiring to Newport seven years ago, has been the commitment and community involvement shown by both our fire and police personnel. These are the individuals who have made us feel like family. Our friends back in Connecticut cannot begin to fathom the genuine relationships that have been forged here in our town. I can only imagine that these wonderful people must feel hurt....and for that, I am truly sorry.
How sad! I personally know how much time and dedication this department puts in to serve their community, both on and off duty. To have a department be so involved in their community and get to know their citizens outside of just emergency situations is something to praise, not demean. Now to be involved, you're asking these firefighters to spend even more time away from their families and loved ones. It sounds like the attack against this department continues.
Tell the politicians to get the hell out of the way, so the people who do all the work can continue to build relations with their community!! Bunch of jackasses!!
A very sad day for community relations! Most Fire Departments strive to serve their community as Local 45 members do. Unbelievable! Furthermore, did any of you see my post about lunch with these folks a couple weeks ago. They left their dinner table three times to service this community. This is the gratitude we show them?😢
I love that you're involved and I hope you continue to be, despite some narrow- and small-minded thinking. Thank you for serving our area. <3
I was looking this over again and I see the words 'a complaint.' Out of all the citizens in Newport, the city felt the need to make a policy over "a" complaint! Really? Shouldnt go by the majority here especially when the firefighters are working for and supporting that same community and some on their own time? That decision is disgusting. It gives power to one person, one complaint! This is not fair for the rest of the community!!
Sounds like a knee jerk reaction for a complaint. Keep up the good work for your community Local 45.
This is a shame. You are a vital part of the community.
You would think people would be happy that people care....
Sounds like somebody at the meeting has a personal vendetta against the fire department. Maybe not a citizen
What meeting complained ????? Name names, others can handle it in more ways than you imagine.
Just another example of someone ruining it for everyone and butting their nose where it doesn't belong. Sorry that happened and even though I don't live in Newport still thank you for all that you do for the community you are all true heroes. Newport Professional Firefighters Local 45 IAFF
How sad. Thank you for all you do !
I'm not a Newport resident but I always welcome seeing a fire company at a community event. I take satisfaction knowing if a situation occurred that the brotherhood would be on top of it in a heartbeat. I ask this of the simple minded person(s) who reported this. What would you have done if they were on the other side of town helping others? My parents always told me if you can't say something nice, don't say it at all!
That is awlful wrong I have been a friend of this department all of my life and I am so proud of what these individuals have accomplished please do not stop helping your community . You guys are the best !!! Luv ya all ❤️❤️
Load more
2018 Newport Professional Firefighters Local 45 I.A.F.F.
BEYOND THE CALL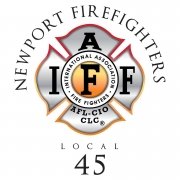 Newport Firefighters Local 45, affiliated with International Association of Firefighters (I.A.F.F.), is primarily a Labor Organization representing the members of the Newport Fire/EMS Department in Newport, Kentucky. Established in 1918, Local 45 was one of the first sixty-six locals of the now more than 3,100 I.A.F.F. affiliates across the U.S. and Canada. Today, in addition to business of being a labor organization, Local 45 continues to sponsor programs such as College Scholarship Awards, Youth Sporting Events, Holiday Family Assistance Program and Smoke Detector Installation/Maintenance Program. Many of these programs were developed and financed by Local 45 members who were inspired to give back to the community after interactions during emergency responses.